SOTW?
Signature of the Week (commonly abbreviated as SOTW) was a forum section of Runescape Bits & Bytes established April 8, 2005. Nowadays it is much more than just a forum; the Signature of the Week is a battleground for graphics artists who do battle wielding computer software to design the best signature every week!
Each week a new competition opens, in which signature designers have those seven days to create their masterpieces and submit them. At the end of the week the competition is closed, and the signatures entered are voted on by the public (members of the RSBandB forums). The creator of the winning signature receives a coveted SOTW "trophy". The trophy is a signature graphic acknowledging the winner of SOTW for that week, displaying the winner's name and which week they won. Some competitors even have multiple trophies...
Think you have what it takes to win a SOTW yourself?
This website, launched April 25, 2009, is a database built by SOTW Leader Chief Snake to provide comprehensive archives of the Signature of the Week to the public.
Most Recent Winner
Week 245 was won by Hairy Munky with this signature:

Congratulations! Here is your trophy: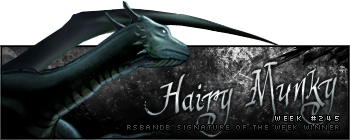 This was Hairy Munky's 8th win.
Copyright © Runescape Bits & Bytes, 2009.
All signatures remain property of their respective artists.